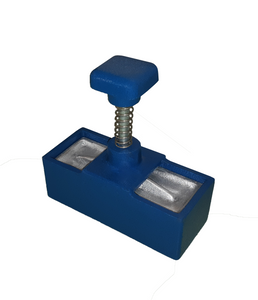 Claasens Designs CC
Patty Former Rib
FEATURES
Epoxy coated 

 

Aluminium contact surface

Patty size 140 x 55mm 

Press with hand 

Quick and handy 
PRODUCT DESCRIPTION
Introducing the Patty Former Rib, the perfect tool to help you create perfectly shaped patties every time! Made with an epoxy coating and an aluminium contact surface, this patty former is durable and easy to clean.
The patty size of 140 x 55mm is ideal for creating burgers that are the perfect size for buns to make your favourite rib burger. With its easy-to-use design, you can press your patties with your hand, making it quick and handy for any chef or home cook.
INSTRUCTIONS FOR USE

The Claasens patty formers (presses) are made from cast aluminium, and is epoxy coated. 
Use freshly ground mince, press into a little ball and place on the work surface or on a patty divider (available as an optional extra). Lower the patty former over the mince and exert pressure.
The firmer the pressure, the firmer the patty will be.
Lift the patty former and place another patty divider on top. It is only necessary to use patty dividers should you need to stack and freeze the patties.
All our patty formers are easy to clean in warm, soapy water and should be dried thoroughly. Other than that, the patty formers are maintenance free.
Code: PV219

Packed weight:  2 kg
Package dimensions:  110x110x160
SHIPPING
We can send your parcel via Courier, PostNet to PostNet or PostNet to Door! You will see the different options when you click on "check out". Please make sure that, if you choose PostNet to PostNet, that you supply us with the name of your nearest PostNet.
Foreign customers can use PostNet Air Mail. Please allow about two weeks for delivery. 
If you are residing in a country for which no shipping is listed, please feel free to contact us via email (info@claasensdesigns.co.za) and we will gladly assist you.
---
More from this collection