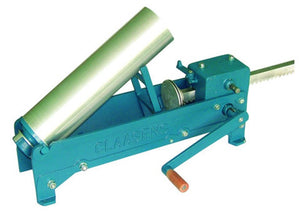 Claasens Designs CC
Sausage Filler (Gears)
FEATURES
Epoxy coated

 

Aluminium barrel

Two speed gearbox with crank handle

3,1 liter / 3,1kg meat

Coupling for standard filling pipes

Stand to make filling easy

2 x Filling pipes included

Ideal for Home and Hunter
PRODUCT DESCRIPTION
This high-quality sausage filler that can make your sausage-making process a breeze! It works on the principle of two speed gears for filling and retraction. The cylinder that can rest on a stand in the open position, so that you can refill mince using both hands.
Crafted from aluminium and designed with ease-of-use in mind, this sausage filler is the perfect addition to any kitchen. With its sturdy construction and easy-to-clean design, you can rest assured that this sausage filler will last you for years to come.
So if you're looking for a top-of-the-line sausage filler that delivers unbeatable quality and performance, look no further than the Sausage Filler Gears from Claasens Designs.

Order yours today and start enjoying delicious, homemade sausages in no time!
INSTRUCTIONS FOR USE
To make your own boerewors has never been easier!
Mount the sausage filler to a table top.  Loosen the cylinder clamp, lift the cylinder and let it rest on the stand that is located underneath the barrel..  Fill the cylinder with meat, lower into place and fasten the cylinder clamp.  Use the crank handle and the top drive attachment to press the meat through to the casing. To retract the plunger use the lower drive attachment.
Dismantle the filler pipe and cylinder and hand wash with soap and warm water.  Pull out the split pin and loosen the piston for cleaning.
Store in a clean, dry place.
Code:  3WS210

Packed weight:  11 kg

Package dimensions:  660x210x245
SHIPPING 
We can send your parcel via Courier, PostNet to PostNet or PostNet to Door! You will see the different options when you click on "check out". Please make sure that, if you choose PostNet to PostNet, that you supply us with the name of your nearest PostNet.
Foreign customers can use PostNet Air Mail. Please allow about two weeks for delivery. 
If you are residing in a country for which no shipping is listed, please feel free to contact us via email (info@claasensdesigns.co.za) and we will gladly assist you.
---
More from this collection