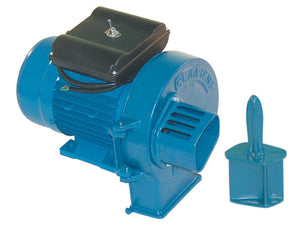 Claasens Designs CC
Electric Biltong Slicer .75kW
FEATURES
0.75kW high torque motor 220VAC, 50Hz 
Original patent

Durable epoxy finish

Easy and quick access for cleaning

Patented mouthpiece for safety 

Mouthpiece is replaceable

"Clear cut" cutting action

Production 220-250kg/h

Slice width - 3mm

Hardened steel blade (item code EKL1011)

Feeder included (item code EKST1012)
PRODUCT DESCRIPTION
Looking for a high-quality electric biltong slicer that can make your life easier in the butchery and/or biltong factory? Look no further than the Electric Biltong Slicer 0.75kW from Claasens, the best according to our clients!
This powerful industrial slicer is perfect for butcheries and biltong factories who needs to cut a lot of biltong. With its 0.75kW motor, this slicer is capable of slicing through even the toughest biltong with ease, making it the perfect addition to your biltong processing equipment.
See the Instructions for Use below. You'll be amazed at how quickly and easily you can slice through pounds of biltong with this powerful machine. The replaceable mouthpiece, with feeder for safety of the user, clear cut action and ease of access for cleaning, distinguish this product from its rivals. 
It is made from high-quality materials, you can expect that the slicer will last for many years to come, with minimum maintenance.
INSTRUCTIONS FOR USE
Cuts 3mm biltong slices in a jiffy.
Mount the slicer to a table top or specially designed stand - wall- or floor stand.
Just switch on and feed the biltong through the replaceable mouthpiece using the Electric Biltong Slicer Feeder to the last bit.  While feeding, turn the biltong to ensure that any sinews are cut through.  Do not touch the inside of the outlet, for the blade can cause serious injuries.
The feeder can be washed with warm soapy water.  Make sure to switch off the slicer and remove the plug from the power supply before cleaning.  Open the front cover by unscrewing the wing nut. Clean the inside of the front cover, the wheel and between the wheel and back plate with a damp cloth or brush.  Beware of the blade - it is sharp!  Close the front cover securely with the wing nut.
The blades and feeders of all the slicers are replaceable. 
Code:  75EK101

Packed weight:  18 kg

Package dimensions: 425x300x350
SHIPPING
We can send your parcel via Courier, PostNet to PostNet or PostNet to Door! You will see the different options when you click on "check out". Please make sure that, if you choose PostNet to PostNet, that you supply us with the name of your nearest PostNet.
Foreign customers can use PostNet Air Mail. Please allow about two weeks for delivery. 
If you are residing in a country for which no shipping is listed, please feel free to contact us via email (info@claasensdesigns.co.za) and we will gladly assist you.
---
More from this collection