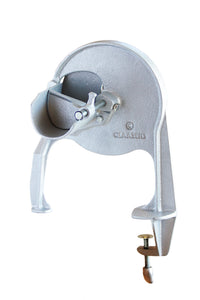 Claasens Designs CC
Vegetable Slicer
FEATURES
Designed to quickly cut different vegetables into various sizes at home and in a food preparing outlet.  
Original patent
Fit onto table top
Durable epoxy coated
Adjustable to cut 2-9mm slices
Blade made of stainless steel
Body made from cast aluminium and powder coated
Safety slide to cut last pieces
PRODUCT DESCRIPTION
The Claasens Vegetable Slicer is meant so slice vegetables consistently with ease. This high-quality kitchen tool is designed to make meal prep a breeze.
With its stainless steel blade, the Claasens Vegetable Slicer can quickly and easily slice through even the toughest vegetables, With its adjustable slicing thickness, you can customize the thickness of your slices to suit your needs.
The slicer is also incredibly easy to use and clean. Simply place your vegetables in the slicing chamber and use the handle to guide them through the blade. And when you're done, the slicer can be easily disassembled and washed.
Whether you're a professional chef or just looking to make meal prep a little easier, faster and safer the Claasens Vegetable Slicer is the perfect kitchen tool for you.
INSTRUCTIONS FOR USE

This model cuts any thickness of slices (between 2 and 9 mm)
Screw the vegetable slicer onto a suitable table top.  Adjust the thickness to what you prefer by turning the adjustable knob.  Place the product at the edge of the blade and turn the handle for cutting. This slicer is high enough to fit a bowl below it. Remove the slices from time to time, to prevent it from building up.
Hand wash with soap and warm water or simply wipe with a damp cloth and store in a clean and dry place. The slicer wheel can easily be removed for cleaning.
After prolonged use, the blade can be sharpened.  The slicer uses the trusted spiral designed blade by Claasens.
Code:  GKR306
Packed weight:  3 kg
Package dimensions:  420x280x200mm
SHIPPING
We can send your parcel via Courier, PostNet to PostNet or PostNet to Door! You will see the different options when you click on "check out". Please make sure that, if you choose PostNet to PostNet, that you supply us with the name of your nearest PostNet.
Foreign customers can use PostNet Air Mail. Please allow about two weeks for delivery. 
If you are residing in a country for which no shipping is listed, please feel free to contact us via email (info@claasensdesigns.co.za) and we will gladly assist you.
---
More from this collection