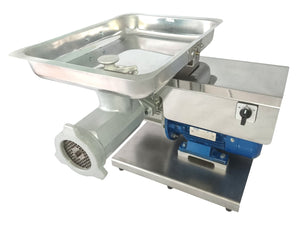 Claasens Designs CC
Meat Mincer No. 32
Regular price
R 23,800.00
TECHNICAL DATA
Electric motor - 1.5kW 220VAC 50Hz
Drive system - industrial worm gear gearbox 
Mincer - No. 32 cast aluminium   
Food safe epoxy coated
Removable stainless steel meat dish 450x340x65mm
Large meat inlet for ease of use
Forward/reverse electric switch (to release worm)
Mincer capacity 350kg/h
Hand feeder included
Stainless steel blade & Stainless steel cutting plate Ø8mm holes
Optional:  Cutting plates 4.5mm, 6mm, 10mm.  
PRODUCT DESCRIPTION
Introducing the Meat Mincer No. 32 from Claasens - the ultimate solution for all your meat grinding needs!
With its powerful 1.5kW electric motor, this meat mincer is designed to handle large quantities of meat with ease. The industrial worm gear gearbox ensures a smooth and efficient grinding process, while the No. 32 cast aluminium mincer and stainless steel blade and cutting plate deliver consistent and high-quality results.
The removable stainless steel meat dish make it easy for cleaning and maintenance, while the large meat inlet and forward/reverse electric switch (to release worm) provide added convenience and flexibility.
With a mincer capacity of 350kg/h and a range of cutting plates optionally available, (4.5mm, 6mm, and 10mm), the Meat Mincer No. 32 is perfect for both commercial and home use. The hand feeder is included for control over the grinding process.
Invest in the Meat Mincer No. 32 from Claasens and experience the benefits of a high-quality, efficient, and reliable meat mincer that will elevate your meat processing to the next level.
The Claasens #32 meat mincer is manufactured in South Africa and is meant for use by hunters, in small industries like supermarkets and as standby in butcheries.

Minimum maintenance on the meat mincer is needed if it is used as recommended. Spare parts are available.

INSTRUCTIONS FOR USE
Ensure mincer head is mounted and bolted correctly in place

Ensure operating parts are fitted correctly into the mincer head
The mincer nut should only be fastened lightly to ensure proper operation (not too tight)
Ensure all meat is free from any bones or hard objects before mincing
Smaller meat chunks to fed into the mincer will put less strain on the mincer
Use hand feeder to feed the meat into the mincer
If the mincer should get stuck, switch off the motor immediately and see if you can find a reason
Please note: Never insert meat into the mincer with hands only, it is extremely unsafe. Use the feeder that is supplied.
Code:  150EM533
Packed weight:  45kg
Package dimensions:  530x410x590mm
SHIPPING
We can send your product via Courier!  Or you can collect at our premises.
---
More from this collection