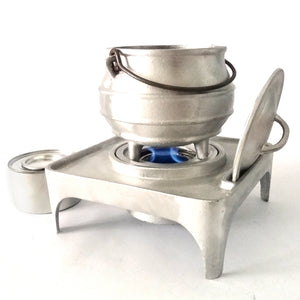 Claasens Designs CC
Friendship Potjie
FEATURES
Your guests cook their own food while friends wine and dine together.
Individual - 1 litre potjie with stand
Handy lid holder
Use in-house
Use gel tin or fill gel up from 5 litre can (Gel not included)
Manufactured of cast aluminium - easy to clean 
Two stage temperature setting ring
PRODUCT DESCRIPTION
Introducing the Friendship Potjie, the perfect addition to your kitchen or outdoor cooking setup. This individual-sized 1 litre potjie comes complete with a stand and a handy lid holder, making it easy to use both in-house and outdoors.
But that's not all - the Friendship Potjie is also incredibly versatile. You can use a gel tin or fill it up with gel from a 5 litre can (gel not included) to cook your food at the perfect temperature. And thanks to its cast aluminium construction, it's easy to clean and maintain.
With a two-stage temperature setting ring, you'll have complete control over your cooking and wait for your friends to finish cooking their meal as well. Whether you're making a hearty stew or a delicious curry, the Friendship Potjie is the perfect tool for the job.
INSTRUCTIONS FOR USE

Wash the potjie in warm soapy water before first use.  After use it can be washed by hand.
Use CHAFER FUEL which is a gel and can be bought in a tin.  It fits in the stand of the potjie and can be stored until fully used.
Depending on the ingredients of your potjie, decide which to cook first.  Normally meat is done before the vegetables.  Smaller pieces cook quicker.
You can do the following:
First fried the onions until brown.  Cook the meat halfway before adding the vegetables.  Then add the browned onions to the mix as well as some spices.  To make a potjie took an hour or longer.
The flame of the gel can be extinguished by putting the lid of the CHAFER FUEL tin back.  The lid of the potjie can also be used.
Enjoy your potjie of food with friends while each cook his or her own.
Clean the potjie after use.
Code:  POT725
Packed weight:  3 kg
Package dimensions:  345x220x200mm
SHIPPING
We can send your parcel via Courier, PostNet to PostNet or PostNet to Door! You will see the different options when you click on "check out". Please make sure that, if you choose PostNet to PostNet, that you supply us with the name of your nearest PostNet.
Foreign customers can use PostNet Air Mail. Please allow about two weeks for delivery. 
If you are residing in a country for which no shipping is listed, please feel free to contact us via email (info@claasensdesigns.co.za) and we will gladly assist you.
---
More from this collection