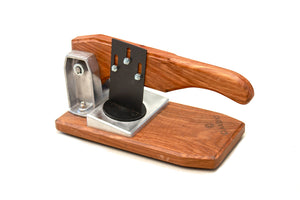 Claasens Designs CC
Alu-Wood Chunk Biltong Slicer
FEATURES
Cut biltong "chunks"

Adjustable blade for perpendicular set-up

Replaceable disc beneath blade for effective cutting and protection of the blade edge

Original patent

 

Hardened steel blade

Durable and aesthetically - made from Teac wood and cast aluminium

A superb product
PRODUCT DESCRIPTION
Looking for a high-quality biltong slicer that is both efficient and stylish? Look no further than the Alu-Wood Chunk Biltong Slicer from Claasens! The combination of aluminium and beautiful Teac wood parts create a product that is durable and also aesthetically acceptable. This distinguish it from similar products on the market.
Its sharp, sturdy, hardened steel blade effortlessly slices through even the toughest cuts of meat, ensuring perfectly sliced biltong every time. The HDPE disc ensure that the biltong is cut off as well as safeguard the slicer from the blade.
The Alu-Wood Chunk Biltong Slicer is also incredibly easy to use, with a comfortable grip that makes slicing a breeze. When you're done, it is easy to store away or put on display until your next biltong-cutting session.
Settle for the best Alu-Wood Chunk Biltong Slicer and experience biltong-slicing convenience and quality!
INSTRUCTIONS FOR USE
Place the biltong underneath the blade and press down the handle.

Control the thickness of the slices.
Rotate the HDPE disc regularly to obtain a new cutting line.  The HDPE disc is replaceable if needed. The hardened steel blade can be sharpened should it become necessary. The blade is adjustable to reset the cutting edge after sharpening.
Clean with a damp cloth and store in a clean, dry place.  The disc can be removed and washed in warm soapy water.
Code:  AHCS117

Packed weight:  2kg

Package dimensions:  340x155x180
SHIPPING
We can send your parcel via Courier, PostNet to PostNet or PostNet to Door!  You will see the different options when you click on "check out". Please make sure that, if you choose PostNet to PostNet, that you supply us with the name of your nearest PostNet.
Foreign customers can use PostNet Air Mail. Please allow about two weeks for delivery. 
If you are residing in a country for which no shipping is listed, please feel free to contact us via email (info@claasensdesigns.co.za) and we will gladly assist you.
---
More from this collection